We believe health is always an emergency. And since 1960, we've responded where needs are urgent with lifesaving medicine, supplies and care.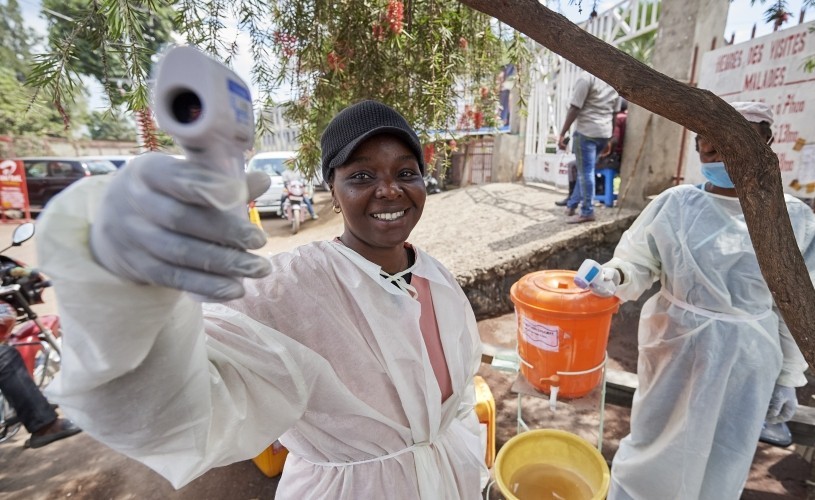 At Corus World Health, we're on a mission to put health in reach for everyone, everywhere.
We believe no one should die from preventable diseases.
We believe healthy mothers are the foundation of healthy families and communities.
And we believe that equipping local health workers is the most effective and sustainable way to ensure communities get the health care they need.
We envision a healthy world forever flourishing in dignity and justice.
With the support of generous donors, our work has touched the lives of more than 100 million people in some of the world's most challenging places.
Our Story
Corus World Health is the philanthropic arm of IMA World Health, a global public health organization founded in 1960. Gifts to Corus World Health directly support IMA's long-respected global health programs.
IMA began as the volunteer project of Mrs. Bertha Marker — a wife, mother and world-changer — who began writing letters to pharmaceutical companies in 1950 asking for donations of medicines and medical supplies. Leveraging her faith community's international network, she began stocking the shelves of needy clinics throughout the world. Within a decade, Bertha's effort formally became IMA.
In partnership with our caring donors and our partners on the ground, our vision for a healthier world has expanded. Today we work to build and strengthen health systems, fight disease and address barriers to health care access in hard-to-reach communities.
We proudly work in concert with Corus International, an ensemble of organizations working together in the world's most fragile settings to deliver the holistic, lasting solutions needed to overcome the interconnected challenges of poverty, health care access and climate change.
You make this work possible
Every vaccine given ... every baby delivered safely ... every life saved ... is because of your generosity.
FOLLOW THE PROGRESS WE MAKE TOGETHER
Sign up for our emails