Abdu Haruna was familiar with the sounds of a baby crying. He'd endured the sleepless nights when his three older children were babies. But this time, he was alone. His wife had died shortly after giving birth, leaving him to struggle with grief and the care of a newborn.
"When I lost my wife, I believed Athumani, who was only seven days old, was next," he said.
How to nourish his infant son was the direst need in those early days, and Abdu struggled. In the first three months of life, Athumani lost nearly half his already slight weight. The baby was in great danger of suffering from the lifetime effects of stunting.
If he survived at all.
"I did not have enough knowledge about how to take care of this baby," Abdu said. "I was feeding him whatever I had on hand like banana juice, light porridge or mashed potatoes. He was always sickly and miserable, adding to the grief I was already experiencing of losing my wife."
Fortunately, help was on the way.
Hope arrived on his doorstep
One morning, a community health worker named Leonsia Amosi visited Abdu. She said she was part of a project, led by Corus World Health, that helped parents feed their children healthy, nutritious food in their first five years to ensure they grow up healthy and strong.
Leonsia's mission was to check in with Abdu and conduct a follow-up visit for Athumani, who was almost four months old. But when she saw how much weight Athumani had lost, she quickly realized the infant was in danger. She told Abdu that his baby could face serious consequences if he didn't get appropriate help and support.
Then she offered a bright spot of hope: Corus World Health was looking for fathers like him to participate in learning activities so they could keep their children healthy. He would not have to do this alone after all.
Engaging fathers to reduce childhood stunting
One of Corus World Health's primary goals in Tanzania was to engage and equip fathers and other male caregivers to take an active role in their children's health and development. This could include feeding and playing with children, talking to and naming objects to aid their child's development and helping with household chores so their pregnant wives could rest, among others.
Community health workers reached men through home visits from community health workers, support groups, a mass media campaign, village health and nutrition days and other community events and educational sessions for rehabilitating malnourished children.
Here's how
Corus World Health developed videos that showed men and women how to co-parent and provide their families with nutritious foods. Watch one of them now:
More engaged fathers lead to healthier families
It worked. Data from the project showed significant increases in several areas.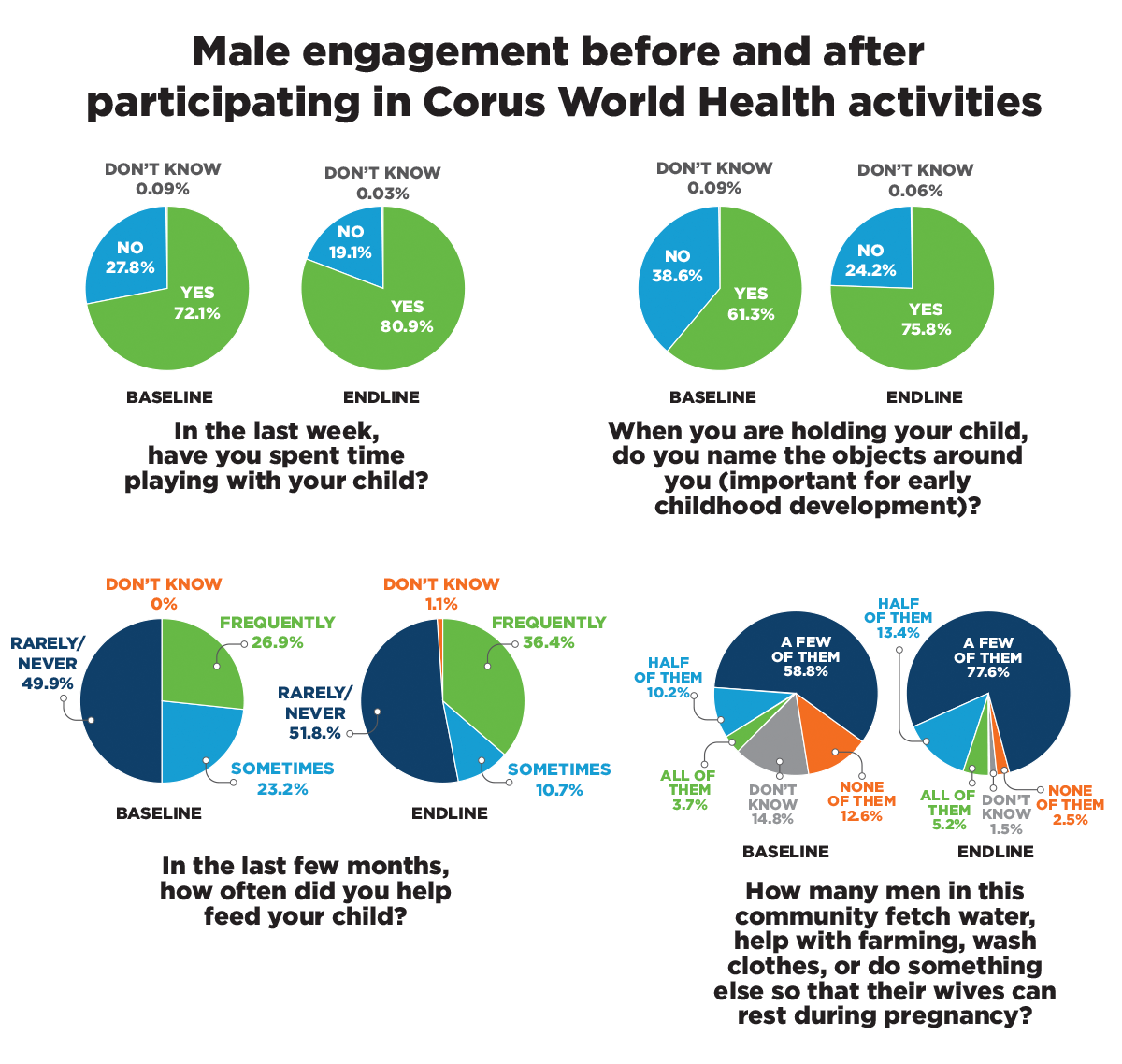 A happy ending for Abdu's family
Through his counseling and training sessions at his home and the local clinic, Abdu learned that he needed to feed Athumani exclusively milk until he was 6 months old — a feat that seemed impossible to him at first, because milk is expensive and not readily available in his village.
Thankfully, local community health workers worked with Corus World Health and the community nutrition officer to make sure men like Abdu had access to milk. Abdu also committed to spending time with Athumani and his older children by listening to them and playing with them.
For months, Abdu closely followed the lessons he learned for feeding his family, and it did wonders for them. At 12 months old, Athumani was still slightly underweight at 17.6 pounds, but he was much healthier. He could walk and play with other children. And Abdu's three older children were also in better spirits and even achieved greater success in school.
"A call to my fellow men: I encourage you to start now," Abdu said. "Fully participate in your children's care to provide them with healthier and happier lives. When you invest in your children, the harvest is abundant, as now I see a bright future in Athumani."