We train and support local health workers
Health care workers can save exponentially more lives when they have the right training, treatments and equipment.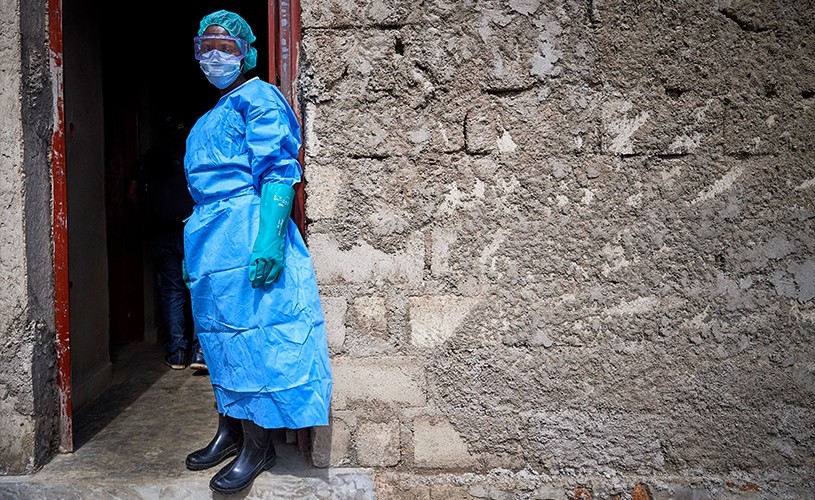 We work alongside communities to improve all facets of health care, starting with the frontline health workers. We provide the training and tools they need to provide quality care.
Training
From home visits to contract tracing to patient care, we get local health workers the skills they need to be most effective in their communities — both in a clinical setting and in their neighborhoods.
Systems
We establish lasting and efficient systems to get essential equipment and medicine to health workers in communities in need. In the Democratic Republic of Congo, we've supported the health system to procure and distribute $10 million worth of drugs per year since 2013 — dramatically increasing the regular availability of essential medicines for patients who need them.
Emergencies
In times of crisis, we implement stopgap measures like portable medical tents and emergency disease control projects, and rush medical supplies to hospitals and clinics, so health workers have what they need to save lives. Our focused efforts have stopped the spread of infection from deadly diseases like Ebola and cholera, and helped treat the sick and injured in conflict zones.
Clinics
We work where but the determination to save lives is strong, even when economies and infrastructure are weak. We improve health centers and clinics so that doctors, nurses and other health workers can save lives. And when there are no clinics, we build them.
You make this work possible
Every vaccine given ... every baby delivered safely ... every life saved ... is because of your generosity.
FOLLOW THE PROGRESS WE MAKE TOGETHER
Sign up for our emails